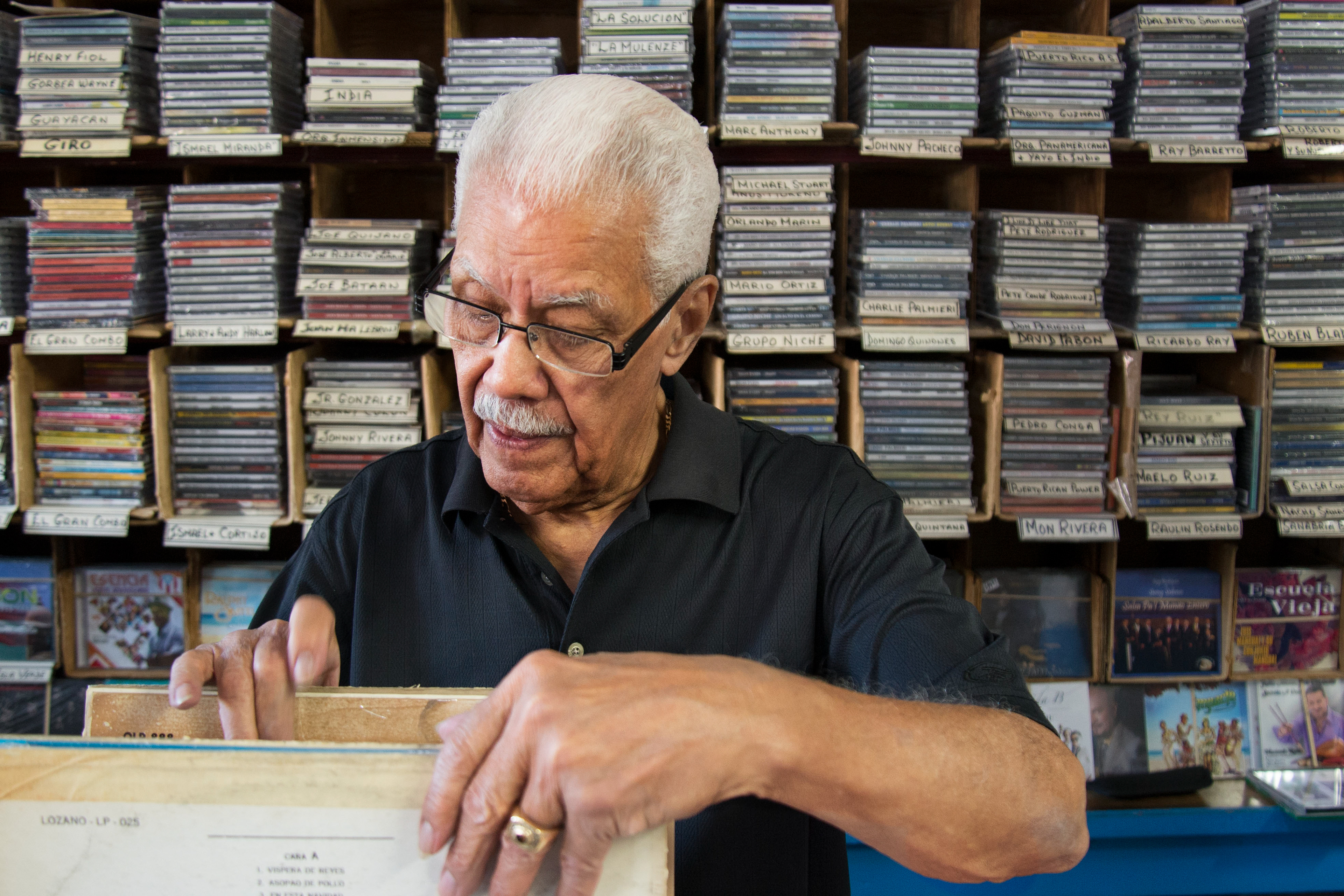 Encouraged by subsidy programs that offered zero-down mortgage payments on houses in other counties, most of the middle-class had left The Bronx by the 1970's. The borough became an enclave for working- class immigrants, African Americans and Puerto Ricans, many from East Harlem or El Barrio.
Unfortunately, an unwanted visitor was also making its debut.
An almost invisible visitor in the form of a white powder that filled people's lungs with an acrid smoke, crack, called by some the "fast food" of drugs, brought with it an epidemic of additional poverty and crime.
In the midst of this gloomy time, Mike Amadeo found the perfect conditions to start a business. He established a store that would maintain the spirit of Latino culture in the same place where another Latino music store, called Casa Hernandez, had been functioning since 1941, before Mike took over the place. Mike named his new store Casa Amadeo, and since the 1960s until today, it has been in the same place in the South Bronx. It remains the oldest Latino music store in New York City, and was listed on the
 National Register of Historic Places
 in 2000.
Mike Amadeo's affinity for music began when he was a little boy. He made a living out of this passion when he arrived to New York City from Puerto Rico. As a member of a salsa music group called Los Tres Reyes, he recorded his music with a company called Compañía Alegre (The Happy Company), which was located in the same building as Casa Amadeo. In his lifetime, Mike has 
composed over 200 songs
.​​​​​​​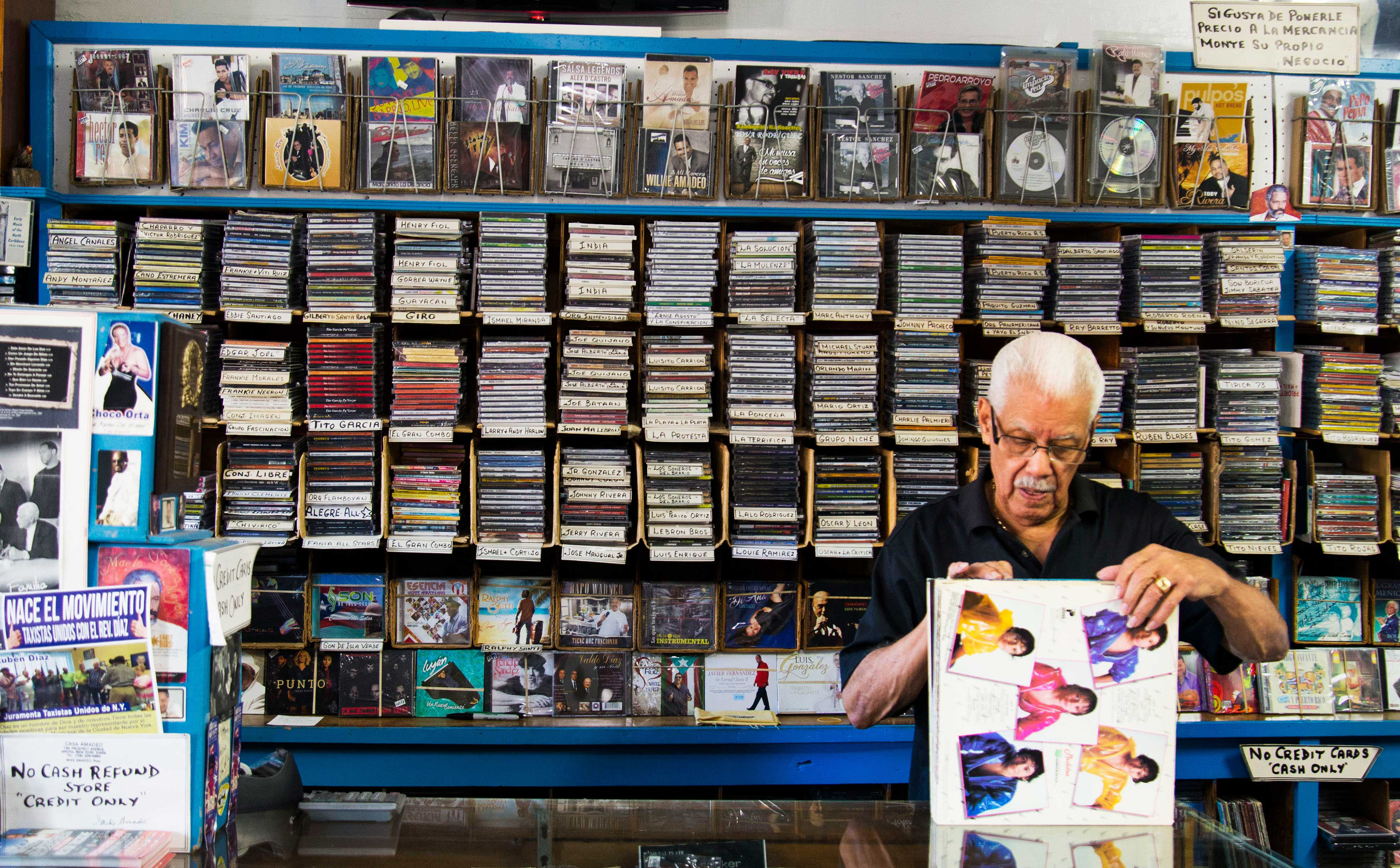 Mike moved to the South Bronx in 1969 when he rented a shop at 
786 Prospect Avenue
 (also known as 
850 Longwood Avenue
) for a price much lower than the average rent of the city. At the time, many of the longtime residents were fleeing the area, which was starting to feel more like a war zone than a neighborhood, but Mike was lured by the cheap rent and the increasing Latino community.
New York City has always been the home of diverse cultures and values, and this diversity created the perfect place for Mike to prevail and establish a profitable enterprise. The Hispanic population was becoming the majority in the South Bronx, and they became Mike's most distinguished customers. He filled up the stalls of his store with Latino music.
Latinos love to dance, and all the countries that comprise South and Central America have their own original rhythms with the same festive cadence. They all are danced vividly, and give Latino countries a cheery ambience. This cultural bliss was sustained by Casa Amadeo, as Mike was providing the community with the most iconic salsa discs.
Large numbers of Latinos began to arrive to the South Bronx in the 1960's and 1970's, and they encountered a bleak atmosphere infested by drugs and decay. To uphold their culture, Latino nightclubs began to prosper, and they became a shelter for the joyous identity of immigrants coming from South and Central America.
Soon enough, these nightclubs became Mike's privileged customers. Mike was supplying jukeboxes in Latino nightclubs with compact discs, and his customer base continued to grow, while at the same time he was paying a very low rent in a depressed neighborhood.
Only a few people had Mike's determination to stay in The Bronx at that time. In the 1970's, this borough lost one in five residents, and its population declined from 1.472 million to 1.169 million. As The Bronx continued to be neglected, the circumstances for Mike became harder, but his determination to stay remained strong. .
For more than two years, the building where his store is located was abandoned and no one was collecting the rent. Junkies constantly broke into the building, and sometimes into his store. Utilities were shut down, and Mike had to get water from the fire hydrant outside his building which he carried with a bucket into his space. He eventually convinced ConEdison to reconnect the utility supply.
In 1977, President Jimmy Carter visited The Bronx and walked along Charlotte Street, just some blocks away from Casa Amadeo. The New York Times covered this visit by saying that the president "viewed some of the country's worst urban blight, rubble‐strewn lots and open fire hydrants, and people shouting 'Give us money!'"
Amongst this bleak landscape, Mike's business was flourishing. The store became a gathering place for Latino culture and his creativity grew delightful songs written by him on the counters of the store. The entire borough was falling apart, but the interior of Mike's store was radiating colorful beams of imagination that united the community.
Today, Mike has a deep bond with his store, even though it does not provide him with the necessary income to cover his expenses. However, the emotional reward of having overcome those dark times is ample satisfaction.
Mike blames the decline of his store on two reasons : the disruption caused by digital music and the Giuliani administration. Most traditional businesses had to reinvent themselves in the last decades due to the arrival of the digital platforms. Mike's business was in the center of this wide-reaching turmoil.
Additionally, in the 1990's, Mayor Giuliani's administration required that specifically zoned "cabaret" business apply for license renewal every two years for a fee up to $1,300. This requirement got rid of many informal nightclubs that were operating without any license. Mike believed that by doing so, Giuliani criminalized the city's nightlife.
Casual buyers of music could now access to all the music they wanted online, and many nightclubs with jukeboxes that demanded Mike's compact discs are now on the verge of disappearing or are gone, but Mike's determination has remained strong. From Monday to Saturday, he arrives at 11:00 in the morning to keep his store running.
At the age of 84, he is energetic enough to pull up the heavy gates of his store, answer the phone, offer interviews, and attend to his customers; most of whom are seniors that spend a great deal of time walking around the store, staring at compact discs of old salsa orchestras that trigger a sense of nostalgia.
That same nostalgia, and perhaps melancholy, is also present in Mike, as he shows an LP record that contains the music of his father, who also was a prominent musician, and abandoned Mike when he was a little child living in Puerto Rico. Mike talks of his father with both admiration and sorrow. He proudly played the music of his father, while saying "What kind of affection could I have for someone who abandoned me when I was a child?"